Harrow fire: Woman dies in suspected gas blast
A woman has died in a suspected gas explosion in north-west London.
Her body was found in a first-floor flat destroyed in the blast in Fulbeck Way, Harrow, just before 01:00 BST Sunday.
Another woman, a man and a baby were rescued from a second-floor flat, with the woman and child taken to hospital.
About 70 firefighters tackled the flames and 40 neighbours were evacuated from their homes. The Met is investigating.
The victim, believed to be in her 80s, has not yet been formally identified. Officers are in the process of finding her next-of-kin.
Rahman Alanezi, who lives nearby, said: "Everyone was screaming that there was a baby inside and they took him out."
Police said the woman and baby "are expected to be fine" after being treated for smoke inhalation.
The London Fire Brigade said it was working with police to establish the cause of the blast but that "a gas explosion is suspected".
"The first floor partially collapsed due to the force of the explosion," it said.
Alan Taylor, the brigade's borough commander for Harrow, added: "When crews arrived they were faced with a well-developed fire.
"Crews worked really hard and they rescued two adults and one child using a nine metre ladder."
Community shock
Ahmed Versi, 69, lives in a nearby street and was awoken by sirens.
"From our window we could see the fire," he said. "It was very high flames. It was almost engulfing the whole house.
"You could see that the house was completely demolished. I was very concerned that there were people inside."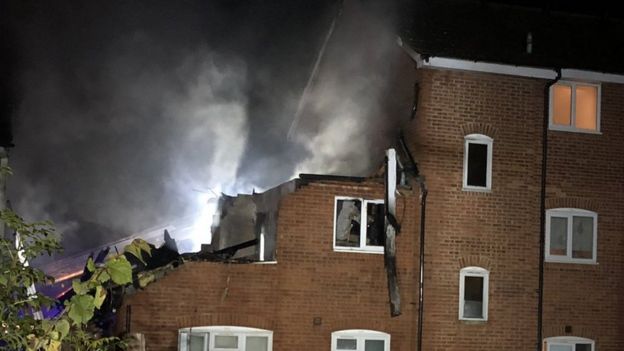 Image copyright@RAHMANALANEZIImage captionThe roof of the two-storey building collapsed
Mr Versi said he then walked towards the house to find the neighbours who had been evacuated.
"Everybody was just standing there silently watching what was happening. I think they were all shocked," he said.
On hearing a woman died in the explosion, he added: "It's severely sad to hear what has happened - such pain for the family members."
Harrow Council said it helped one person who was evacuated to book into a hotel. Others have found places to stay themselves, a spokesman added.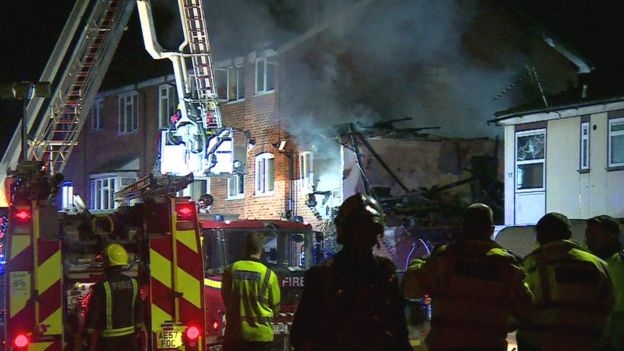 Navin Shah, London Assembly member for Brent and Harrow, said the death was "tragic news".
On Twitter, he added: "Heart goes out to the victims & affected residents."
Ten fire engines were sent to the scene and a 20m cordon was put in place. The blaze was brought under control after two-and-a-half hours.
The Health and Safety Executive has been informed.
Read more news of London on our site.
If you notice an error, highlight the text you want and press Ctrl + Enter to report it to the editor