London Assembly members 'misled' over Crossrail delay
Transport bosses and London's mayor have been accused of being misleading over a delay to the Crossrail project.
London Assembly's transport committee said it had "identified grave discrepancies" in evidence it was given by Crossrail chiefs and Sadiq Khan.
Committee chair Caroline Pidgeon said it was "highly likely" Mr Khan had been told a delay was probable in July.
A spokesperson for the mayor said he had only found out about the revised schedule on 29 August.
A Crossrail spokesperson said the project's bosses had "been reporting cost and schedule pressures to sponsors" and a "schedule risk was flagged" at a board meeting on 19 July.
At the end of August transport bosses announced the £15bn Crossrail, which was due to open in December, would start running nine months later than planned .
The transport committee heard evidence about why it had been delayed at separate meetings on 6 and 12 September.
In a letter to the mayor, Ms Pidgeon said the details given to committee members "at times seemed partial and contradictory" and "reveal a number of worrying decisions".
She said the timing of when Crossrail knew there would be a delay "remains murky" with bosses publicly claiming throughout spring and summer the deadline would be met, despite later saying there was unfinished construction work and problems with testing.
"Crossrail should have made it clear months earlier to you, its sponsors, the assembly and Londoners that the planned opening date was being reconsidered," she said.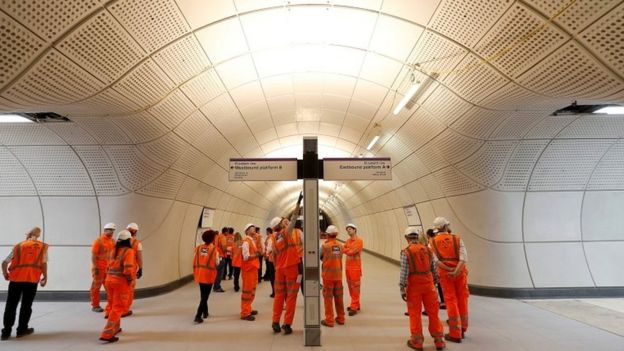 Image caption The project was set back by an electrical explosion in October 2017
Ms Pidgeon also criticised Mr Khan, Transport for London (TfL) and the government for "decisions...to hide from the public the growing concerns about the Crossrail delivery schedule."
She said it was discussed by the TfL board on 25 July but was "hidden from the public" because cameras were turned off, turning such meetings into "little more than theatrical performances".
According to the transport committee, TfL also made no mention of a possible delay in a statement made to the London Stock Exchange on 24 July, even though on 19 July it had been informed by Crossrail "they could no longer have confidence in the date of opening".
Ms Pidgeon called for future projects to have more robust independent scrutiny, with the publication of minutes from all meetings and private board sessions.
By Tom Edwards, BBC London transport correspondent
The assembly committee is not alone in concluding that something does not quite add up with the Crossrail saga and who knew what when.
It all seemed to fall apart too quickly when rumours about the delay had been swirling for weeks.
Either the main sponsors, the mayor and the Department for Transport (DfT) knew about the delay earlier or they didn't.
And both scenarios don't look great and raise questions either about openness or a lack of oversight.
The spokesperson for the mayor said Mr Khan had not hidden his "anger and disappointment" over the delay which was "made worse by the length of the delay and how late in the project it was announced".
"The mayor has now asked Crossrail Ltd and TfL to look into whether the joint sponsors should have been made aware of the revised schedule at an earlier date, and whether the right scrutiny and oversight is in place," they said.
A Crossrail spokesperson said project bosses had "confirmed that it was now no longer possible to meet the December 2018 opening date" at a board meeting on 29 August.
"This was communicated to sponsors on 30 August and announced at the earliest opportunity on 31 August," they said.
If you notice an error, highlight the text you want and press Ctrl + Enter to report it to the editor