Piccadilly Line strike: Drivers begin 48-hour walkout
Drivers on the London Tube line serving Heathrow Airport have gone on strike after talks collapsed.
RMT union members on the Piccadilly Line began a 48-hour walkout at midday in a row over working conditions.
Some drivers say they were threatened with the sack for taking time off after people had killed themselves on the tracks while they were working.
Transport for London (TfL) said the three days of disruption to customers was for "no good reason".
There will be little or no service on the line until Friday afternoon and a second five-hour strike from 20:30 BST on Friday will also disrupt the Night Tube, TfL said.
Passengers were advised to end all journeys on the line before 13:00 on Wednesday.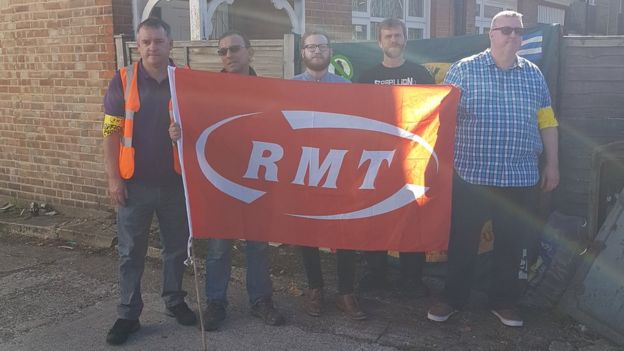 Image copyright RMT Image caption The strike by RMT drivers will have a knock-on effect on other Tube lines, TfL warned
Anyone travelling to Emirates Stadium to watch the Arsenal v Brentford football match on Wednesday evening should allow extra time for their journey because delays and part-closures were likely on the Victoria Line as a knock-on effect of the strike, TfL said.
Talks at the conciliation service Acas ended between TfL and RMT without agreement on Tuesday .
In a leaflet explaining reasons for the strike , RMT said: "London Underground are working drivers on the line into the ground.
"We are striking to be treated with dignity and respect at work and not to be threatened with the sack for taking time off following issues such as suicides in the course of our work."
RMT said this and other concerns members have meant they doubt how "decent" and "safe" the service is.
"This strike is not about money," the leaflet added. "All our drivers taking industrial action will lose a day's salary."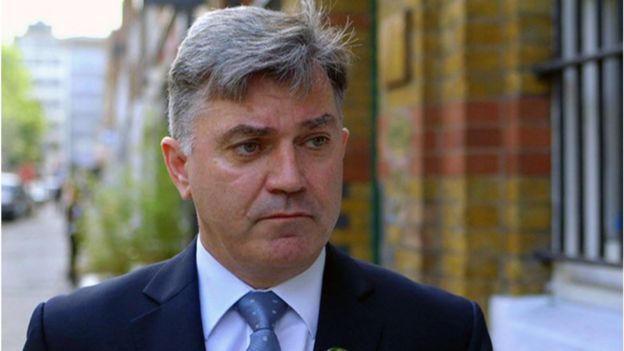 Image caption RMT general secretary Mick Cash blamed Tube bosses for the collapse of the talks
The union's general secretary Mick Cash accused Tube bosses of "wrecking the planned Acas talks" by "refusing point blank to make serious progress on the core issues that have reduced industrial relations on the Piccadilly Line to a powder keg".
TfL's director of network operations for London Underground, Nigel Holness, said RMT's claims that no progress had been made were "totally untrue".
"They have made no attempt to engage with us to try and resolve this dispute," he added.
"We continue to uphold all our commitments following discussions with the RMT earlier in the year," he said.
"We are hugely disappointed that customers will suffer three days of disruption for no good reason."
The Piccadilly Line serves Heathrow Airport and carries about 500,000 passengers every day.
Drivers on the line were previously due to walk out in July but the action was suspended following last-minute talks.
Customers travelling between central London and Heathrow airport are advised that TfL rail services will be available to and from London Paddington station every 30 minutes, while Heathrow Express services will also run normally.
If you notice an error, highlight the text you want and press Ctrl + Enter to report it to the editor