Walthamstow drive-by-shooting victim named as Guled Farah, 19
A teenager killed in an east London drive-by-shooting has been named as 19-year-old Guled Farah.
Mr Farah was rushed to hospital by friends after being shot from a car in Vallentin Road, Walthamstow, on Saturday evening.
Police were called shortly after 23:00 BST, but the teenager, from Newham, died in hospital a short time later.
A 23-year-old man who was arrested on suspicion of murder has been released under investigation.
Det Ch Insp Paul Healy said it was "a shocking attack on a young man on a busy Saturday night".
"The perpetrators need to be found and the firearm taken off the streets," he added.
He appealed for anyone who was in the area or anyone with footage, including from a dashcam, related to the shooting to come forward.
"Equally, if you were a witness and are yet to come forward, I would urge you to get in touch," Det Ch Insp Healy said.
In March, a man in his 40s died after being stabbed in Vallentin Road .
Labour MP for Walthamstow Stella Creasy has called for better protection of the area.
She tweeted : "Walthamstow urgently needs more police to support work being done to tackle gang and gun crime."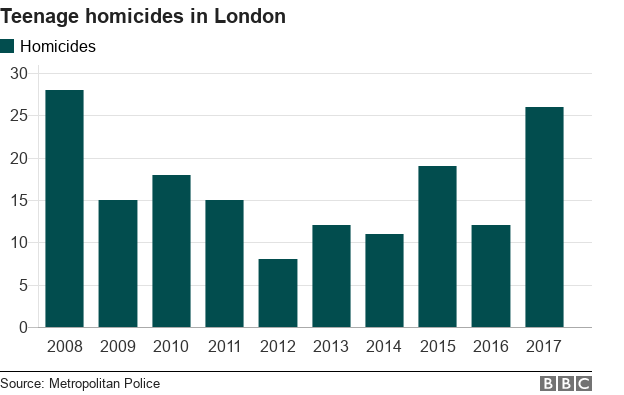 London has seen a surge in violence over the past year with the number of murders in the capital having surpassed 100 so far.
A third of London's homicide victims in 2018 have been aged 16 to 24, and three in five of the deaths have involved knife attacks.
There were 116 killings in the city in 2017.
Can Chicago's model cure London's violence?
Violence 'a disease infecting communities'
London's violent crime wave 'is not new normal'
Earlier this month, London Mayor Sadiq Khan said the capital's violent crime is to be treated as a public health issue.
He said a Violence Reduction Unit would mirror the approach taken in Glasgow, where violence is treated as "a disease infecting communities".
If you notice an error, highlight the text you want and press Ctrl + Enter to report it to the editor