Knowledge Point, North London.Being in the Knowledge schools is kind of like being in a monastery; all around you people are calling routes and road names. To the uninitiated it sounds like a mantra.
If you want to drive one of London's iconic black cabs, you'll need to take the Knowledge – an exam terrifying in its vastness. Aspiring taxi drivers must learn every street within a six-mile radius of Charing Cross – its name, the direction it runs, any restrictions and any points of interest along the way, such as restaurants, hotels, bars, embassies, hospitals, churches or, really, anywhere a passenger may conceivably ask to go. It typically takes students four years to pass, and they fund their own way through it - writes vice.com.
I was interested why, in the age of Uber and Google Maps, people would still put themselves through this process, and what it's like to do so. London has a bunch of Knowledge schools, and I spent time this summer in the three biggest, photographing the students and interviewing them about their lives as "Knowledge Boys" and "Knowledge Girls", as those who take the exam are affectionately known. Of course, since I was there, TfL have taken the decision to not renew Uber's London license – a victory for the cabbies who protested the app-based taxi service, and a massive boon to those I met, a vindication of their choice to tackle the Knowledge in the first place.
This is part of an ongoing photography project that will eventually be released with a long-form essay, but watching the debate that has sprung up in the wake of TfL's decision, I was struck by how little the Knowledge was mentioned and thought it would be worth sharing a few of the photos now.
Sherbet Knowledge School, Dalston, East London
Sherbet Knowledge School, Dalston, East London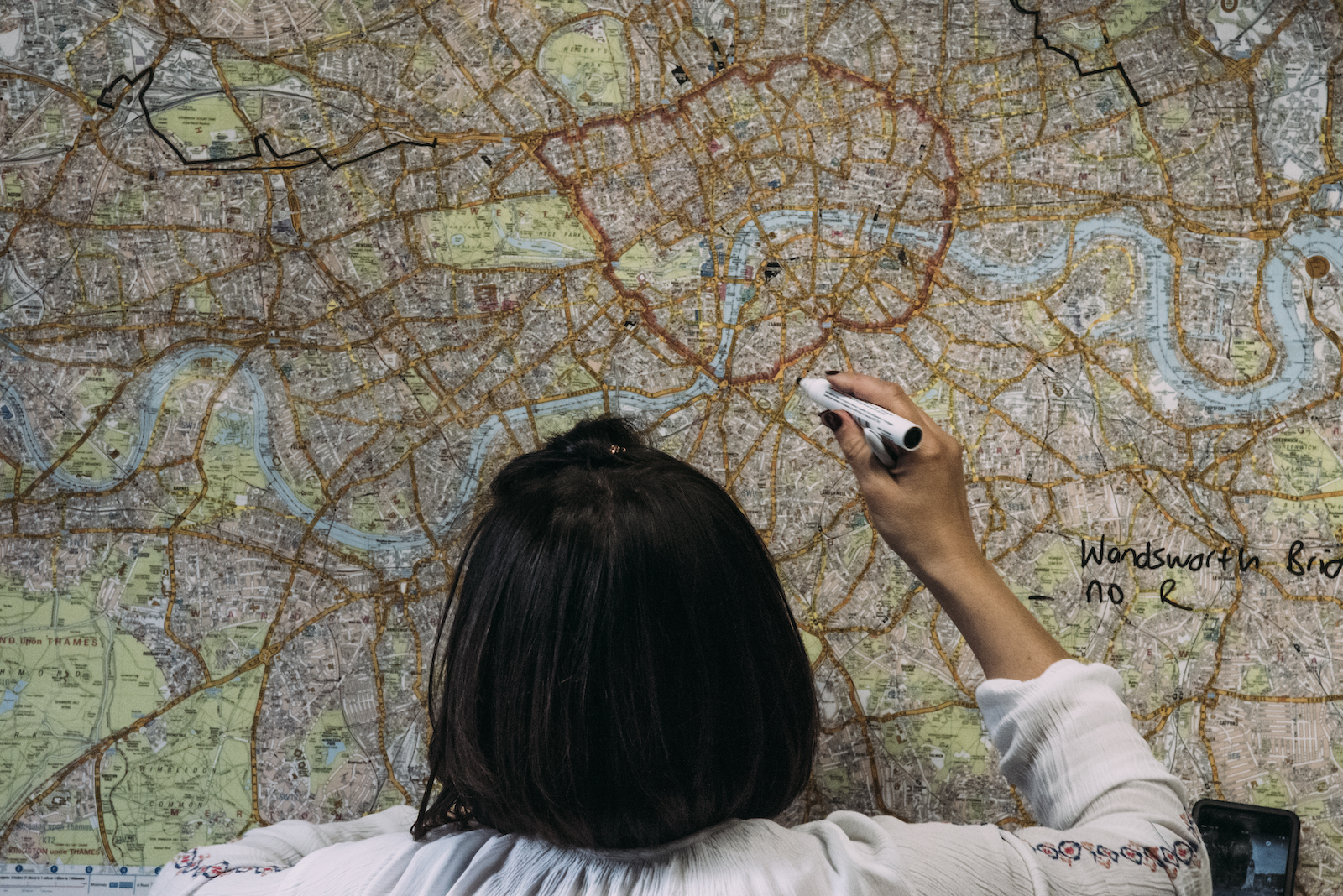 The first thing you notice in any of these schools is the fact that a map of London is omnipresent. Students sit in front of laminated maps which are A0 in size (47.6 x 38 inches) and draw routes across them in felt tip pen. There are two main ways that people study for the Knowledge; the first is being out on a bike or in a car "pointing" – travelling along predetermined routes and noting down all the roads, restrictions and points of interest along the way. The other way is to be in the school alone in front of the map, or working with a partner, calling points; one person will act as the examiner, giving two points, and the other will call out the route they would take, which is then drawn on the map and measured against a straight line drawn between those points as the crow flies. The idea is to be as close to that line as possible.
Sherbet Knowledge School, Dalston, East London